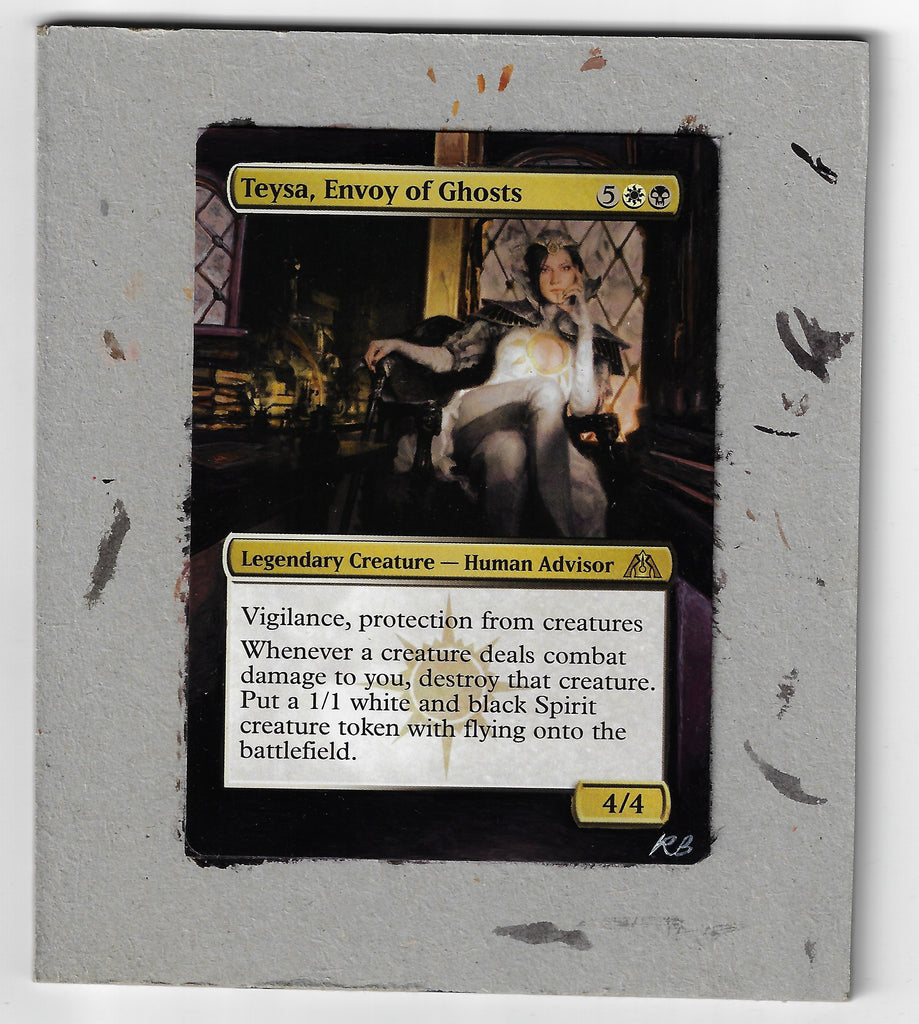 Magic Magpie's first altering commission!
by Magic Magpie
Altering Magic the Gathering cards has been a fun challenge.  I've probably only been doing it for about a year, but had tons of painting experience coming into it which gave me a good grasp of color matching and other necessary skills.  I enjoyed practicing on some common cards and then, thanks to the support of some friends, found the confidence to offer the service on a commission basis.  Now with the launching of Magic Magpie in 2020 I have the ability to offer this service in exchange for MTG cards!  Anyone can now use the store buylist to trade-in cards for store credit and then use that credit for an alter of their favorite card.  This Teysa, envoy of ghosts, was Magic Magpie's first alter commission and was paid for with a trade-in.  A simple border extension like this starts at only $50, but if you want something more customized I'm happy to discuss other treatments.  You can follow my painting progress on facebook through the Magic Magpie page or my art page:
https://www.facebook.com/MTGMagpie/
https://www.facebook.com/ToriBattArtist/
And if you don't want my work but want to support my artistic pursuits, you can donate to the art fund via patreon:  https://www.patreon.com/Toribatt
Thanks for stopping by and stay tuned for painting progress reports!
First I put on two thin layers of grey to cover the original border as much as possible, trying to finish with a sharp, clean line at the edges.  Sometimes when I have painted a messy edge,  I need to spend sometime tidying it carefully with a toothpick dipped in water.  The acrylic paint can be gently removed.  I hope one day my hand will be steadier! 
When the gray layer is as tidy as I can get it, the fun begins as I can decide how I want the extensions to look.  Here the objects and light/shadow are roughly planned out straight onto the painting, before I start with color matching and finer detail.
Then the work of doing many thin layers begins.  These build up to create color and shape that blends with the original image.  
Then it's all scanned and hit with a layer of spray fixative :)  
It's a fantastic exercise for practicing color mixing and detailed painting and forces you to look carefully at the original artist's work.  A great learning experience every time and I highly recommend it for any MTG and painting enthusiast :)